Today's Presenter Profile Series features Geoffrey Francis Salanje, University Librarian at Lilongwe University of Agriculture and Natural Resources (LUANAR) in Malawi.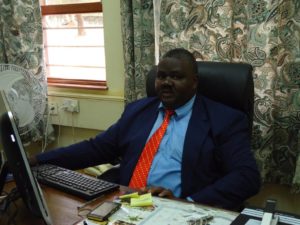 A little bit about Geoffrey…
Geoffrey is a University Librarian at Lilongwe University of Agriculture and Natural Resources (LUANAR) in Malawi since 2013. Before that he has worked as a College Librarian of the then Bunda College of Agriculture under University of Malawi for about 13 years and an Assistant Librarian in the University of Malawi since March 1986. (Bunda College of Agriculture became an independent public university in 2012 after delinking from University of Malawi.)
Academically and professionally, Geoffrey holds a Bachelor of Social Science (B.Soc.Sc, 1985) from University of Malawi majoring in Statistics, Management and Sociology; a Postgraduate diploma in Library studies (1988) from University of Botswana; and a Master's degree in Library studies (MLS, 1992) from University of Wales – Aberystwyth. In his 32years' career – all in an academic library, he has attended a number of special short courses, workshops, seminars, meetings, conferences, etc.
Geoffrey has been a member of IAMSLIC and AFRIAMLIC since 2002 and 2003 respectively. He first attended and presented a paper at AFRIAMSLIC biannual conference in Accra, Ghana in 2003 and in 2005 he attended and presented a paper for the first time at IAMSLIC annual conference held in Rome, Italy. Since then he has attended and presented papers at other IAMLIC annual conferences held in Portland, Oregon (2006); Sarasota, Florida (2007); Zanzibar, Tanzania (2011); Rome, Italy (2015) and Honolulu, Hawaii (2017). Geoffrey successfully organized and hosted a 3rd AFRIAMSLIC conference in 2007.
Talk to Geoffrey in Entebbe about…
Academic librarianship in an African country where he has spent his entire 32 years career! He is also ready to share with you the challenges librarians in Malawi face and prospects in the profession. He likes reading current affairs and biographies; listening to country and western music, watching soccer and comedies on TV. Occasionally he drinks a glass of beer but not quite often! So feel free to talk to him when you meet him in Entebbe, Uganda!
His email is gsalanje@luanar.ac.mw Am also at WhatsApp: +265 9999 30 892
Geoffrey will be presenting…
Title: Strategies for Providing Access to Aquatic and Fisheries Information no Matter the Location, Technological Access, and Users: A Case for Malawi
Abstract:
Researchers in fisheries and aquaculture are located in various organizations and use aquatic and fisheries information available in different formats. Apart from these researchers, the country has also scholars, policy makers, teachers, extension workers and farmers who seek aquatic and fisheries information for various usages. Some of the uses of the information are literature review, teaching and learning, extension, planning, decision making, access to markets for farm produces and community education. Providing access to relevant aquatic and fisheries information involve a number of players such as librarians, communication and information experts and broadcasters. Access to the aquatic and fisheries information must therefore be timely and accessed in the right format considering that there is now advanced technology. The paper therefore discusses the various ways of accessing relevant aquatic and fisheries information with reference to Malawi taking into consideration the available technology and the location of the information users. The paper also outlines the challenges faced by those involved in providing the needed information.
Keywords: information usage; information access; technological access; information users; information providers
Pictures from inside the LUANAR Library: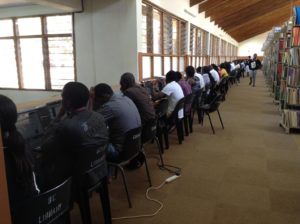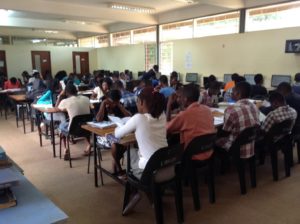 Geoffrey at IAMSLIC 2007: