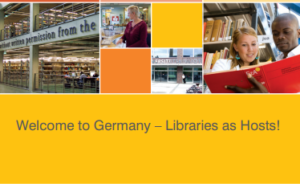 Each year BI-International für internationalen Fachaustausch/BI-International run a professional exchange with Germany for library professionals from aborad. Bibliothek & Information International (BI-International) is the standing committee of Bibliothek & Information Deutschland (BID), the Federal Association of German Library and Information Associations, for the promotion of international professional exchange.
With the exchange they support your plans to explore the German library landscape and to strengthen international knowledge transfer by:
· Providing financial support for professional visits to German libraries
· Providing organisational assistance and financial support for study tours to Germany
· Allocating financial support for participating in international conferences in Germany
· Encouraging personal professional contacts with German library specialists and colleagues
· Assisting in finding partners for European and international projects
· Recommending German specialists for participating in international conferences or seminars
· Providing and mediating current information on developments in the German library world
Further information can be found here.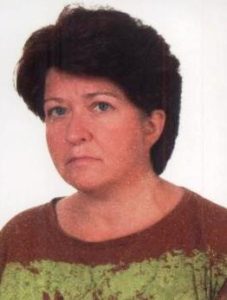 This year Małgorzata Grabowska-Popow will benefit from the scheme. Małgorzata is a librarian working in the National Marine Fisheries Research Institute, Gdynia, Poland and currently a PHD candidate in history. It is a small library with Małgorzata as a full time staff member and just one colleague working part time. Due to the changing nature of the profession and the services the library provides, Małgorzata is constantly upskilling and providing new resources and services to the patrons. She actively works with EURASLIC and IAMSLIC for interlibrary loan services, conferences and workshops.
In 2004 Małgorzata visited the libraries in Kiel, invited by Barbara Schmidt and the libraries in Hamburg, through the BI-International professional exchange. This year she will be hosted by the library of Leibniz Institute for Baltic Sea Research (Warnemuende), this library has a similar holdings as her own. She will also visit libraries that should prove to be a marvellous source of information about contemporary scientific information and library science.
Through her visit, Małgorzata hopes to increase her knowledge of: the German library holdings, visitor numbers, collection history, library services, cataloguing systems, their digitisation methods, publication offices, visitor services, special collections, periodical subscriptions & costings, scientist engagement techniques, author's support, OA, copyright, employee relations, and career development. Małgorzata is going to be very busy during her visit! She hopes she can bring her new knowledge home to her library in Poland and embed and adapt it into her current service provision. She will write a report about her visit and share it with us here at Iamslic.
Stephanie Ronan- Communications team.
Comments off