Stephen B. Alayon is the penultimate presenter featured in our Presenter Profile Series for #IamHawaii 2017, and just in time as everything is about to kick off over in Honolulu!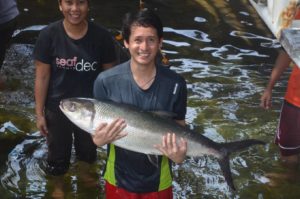 A little bit about Stephen…
Stephen B. Alayon is the Data Bank Senior Information Assistant of the Library and Data Banking Services Section, Training and Information Division, Aquaculture Department, Southeast Asian Fisheries Development Center (SEAFDEC/AQD) located in Iloilo, Philippines. He is also a part-time faculty member of the University of San Agustin and the Central Philippine University in Iloilo City. He finished both his Bachelor of Science in Computer Science and Master of Education (Mathematics) degrees at the University of the Philippines in the Visayas. He is currently pursuing his Master of Library and Information Science degree at the Central Philippine University.
Stephen was the executive vice president of the Philippine Librarians Association Inc. (PLAI) in 2015-2016 and a national board of trustee in 2013-2014. He is also an active member of Special Libraries Association (SLA) Asia, Association of Special Libraries of the Philippines (ASLP) and Philippine Association of Academic/Research Libraries (PAARL). He held various awards such as PAARL Outstanding Academic/Research Librarian 2012, ASLP Citation Award for Excellence in Research 2013, PLAI Distinguished Service Award 2014 and SLA Asian Librarian Award 2014. Thanks also to his hardworking, dedicated and amazing staff, SEAFDEC/AQD Library got the PAARL Best Library Program for SEAFDEC/AQD Institutional Repository (SAIR) in 2012 and PAARL Best Academic/Research Library in 2016.
Stephen has been a member of IAMSLIC since 2012. He has presented at the Annual Conferences in 2013 and 2015 (as oral presenter) and in 2014 and 2016 (as co-presenter), and served as a member of Aquatic Commons Board in 2015-2017.
Stephen and his team are currently doing research on information needs, stressors, and coping strategies of inmates and drugs dependants under rehabilitation. With the current situation of jails and rehabilitation centres in the Philippines as an onset of "drug war", they plan to build jail libraries based on inmates' actual needs. They will look into the use of books and readings as a coping strategy that could help rehabilitate inmates and drug dependants to prepare them for life after. Stephen and his team is also interested in investigating the use of social media during election, information needs of law students, issues in Philippine librarianship and the information needs of fishermen related to Marine Protected Areas, climate change among others.
Talk to Stephen in Honolulu about…
His research, Iamslic, the Philippines and the Aquatic Commons.
Stephen will be presenting…
Title: User Acceptance of IAMSLIC Digital Fisheries Library
Abstract: The International Association of Aquatic and Marine Science Libraries and Information Centers (IAMSLIC) through the Aquatic Commons Board approved the deployment of IAMSLIC Digital Fisheries Library in the Philippines during the 2015 Conference. The digital library utilized the LibraryBox, a portable, open source distribution tool. This standalone wireless access is ideal for fisheries schools due to its location – with its limited or no Internet access and intermittent electrical power conditions.
With the aim to provide access to SEAFDEC Aquaculture Department (AQD) publications in these schools, more than a thousand publications that were already made available in SEAFDEC AQD institutional repository were also added in the box. The box contained over 26,000 publications, reports, articles and documents on all aspects of fisheries that are freely available. SEAFDEC is the first institution in the country to launch the project in July 2016 using this gadget. Five boxes were distributed in Philippine fisheries libraries devastated by Typhoon Yolanda and hazed by fire.
This study examined the factors that influence student's acceptance and attitude towards the IAMSLIC Digital Fisheries Library. A survey was conducted to selected fisheries and marine biology undergraduate students in the Philippines. Relevance, perceived usefulness, perceived ease of use, screen design and behavioural intention to use the digital library were determined.
Connect with the Stephen through…
Twitter: @stpnalaun
Affiliations: Aquaculture Department, Southeast Asian Fisheries Development Center
College of Liberal Arts, Sciences, and Education, University of San Agustin
College of Education, Central Philippine University