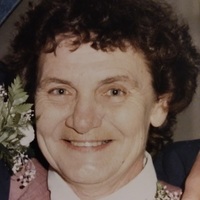 It is with great sadness today that IAMSLIC reflects on the life of Caroyln Winn, our founding mother, who passed away Saturday, September 21, 2019 at the age of 92.
In 1975, Carolyn Winn, the newly-hired librarian at the Woods Hole Oceanographic Institution (WHOI), and Jane Fessenden, librarian at the Marine Biological Laboratory (MBL), sponsored the first meeting of marine science librarians from the east coast of the US and Canada. This was the birth of the International Association of Aquatic and Marine Science Libraries and Information Centers (IAMSLIC).
Founder, 1975, editor journal 1989-90, IAMSLIC president 1982-83
Carolyn is fondly remembered by this organisation. Barbara Butler, librarian at the Oregon Institute of Marine Biology, remembers how Carolyn once rented a red-convertible with a friend at a conference in Hawaii and toured around the island, "I think this action gives us an insight into the fun-loving free spirit she was!" a work/play balance is important and she understood this. Lisa Raymond, librarian at Woods Hole Oceanographic Institution (WHOI), recalls that Carolyn was her first boss when she started at WHOI in 1984 and that she was "a wonderful mentor, a true professional. I remember seeing all the time and effort she put into IAMSLIC – particularly the Directory. She was the first professionally trained librarian hired by WHOI and her title was Research Librarian."
This organisation will forever be indebted to Carolyn Winn. Since that first meeting in 1975, we have developed into a thriving international community and we have Carolyn to thank for that. She was highly accomplished in her career and IAMSLIC benefitted from this great bank of knowledge. In just over two weeks' time we will once again share our success, failures, challenges, and strategies that make up the story and history of IAMSLIC at our 45th International IAMSLIC Conference in Port Aransas, Texas. We will remember Carolyn at this upcoming conference and will raise a glass in her honour.
Our heartfelt condolences are with her family, friends and colleagues.
Visiting hours for Carolyn P. Winn will be held at the Avery-Storti Funeral Home, 88 Columbia Street, Wakefield, RI  02879 on Saturday, October 5, 2019 from 3-5pm.   Condolences may be made online at: www.averystortifuneralhome.com
Posted by Stephanie Ronan