Next on our Presenter Profile Series we have Coffi Ferdinando Rock GBEDO.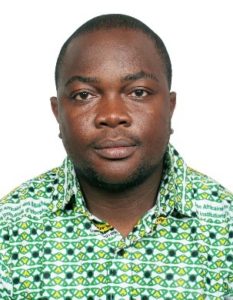 A bit about Coffi…
My name is Coffi Ferdinando Rock GBEDO from Benin Republic. I'm 30 years old and a holder of a bachelor degree in archival sciences (2013) and four years degree in library and information sciences (2016). I'm fonds of foreign languages and apart from French our official language, I'm capable to speak fluently English and a little German and Japanese.
My career in the domain started in november 2014 after my recruitment by Benin's government. Since then, I've been working as a librarian at Benin Institute for Halieutic and Oceanographic Research (IRHOB). I'm also a volunteer at Drabo Public Library where I work every staturday from 9h-13h. Drabo Public Library is working for sustaining the United Nations Sustainable Development Goals and the African Union 2063 Agenda in the community.
As a volunteer at a public library, I have the opportunity to attend the Strengthening Innovative Library Leaders workshop organized by African Library and Information Institutions and Associations (AFLIA) in Yaoundé on may 2017. It was also an opportunity to particpate in 4th African Library Summit and 2nd Conference of AFLIA at Djeuga Palace Hotel, Yaoundé, Cameroon. Since march 2018, I'm part of the second cohort of the Program, International Network of Emerging Library Innovators – Sub-Saharan Africa (INELI-SSAF). From 2 to 7 july 2018, I attended the 3rd African Public Library Summit and the Roundtable of African Ministers in charged of public libraries at INKOSI LUTHULI International Convention Centre, Durban – South Africa.
Talk to Coffi in Entebbe about…
– Digital Library Collections Management ;
– Marine information resources management programs
– Training/internship at marine information resources centers
– Scholarship in Library and information sciences
Coffi will be presenting on…
Title: Access to marine and aquatic sciences information in the Benin Republic.
Abstract: Information production in our societies is getting more and more breathtaking. In Benin Republic, Marine and aquatic information is produced by many organizations such as the Ministry of Agriculture and Fishery, Institut de Recherches Halieutiques et Océanologiques du Bénin (IRHOB), Faculty of Sciences and Technic of Abomey-Calavi University, etc. It is clear that the functioning of those institutions will be affected by diverse types of information. What do we do to meet the growing information needs of these users? This paper lays emphasis on tactics used by the library of Benin Institute for Halieutic and Oceanographic Research (IRHOB) not only in following the national rhythm of information production in the field but also in providing its users with the appropriate information.