Our next speaker for the #IamHawaii Presenter Profile Series is Dang Thi Hai Yen, who hails from Nha Trang city in Viet Nam.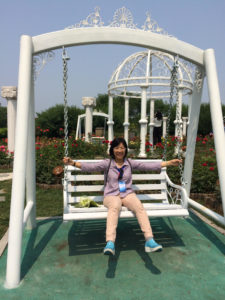 It has always been a dream of Hai Yen's to go to Hawaii, so she is very excited about this conference. This dream was inspired by a meeting with Dr. Isabella Aiona Abbott (June 20, 1919 – October 28, 2010 in Honolulu), who she met in April 1999 at her Institute, the Viet Nam Institute of Oceanography, during the Workshop on Pacific algae. Hai Yen worked for Dr. Abbott's group as receptionist and admired her dedication to marine science. Dr Abbott was an educator and ethnobotanist from Hawaii. The first native Hawaiian woman to receive a PhD in science, she became the leading expert on Pacific algae. https://en.wikipedia.org/wiki/Isabella_Abbott
In this photo of the Workshop from 1999, Dr Abbott is in the middle in the white shirt, and Hai Yen stands at the front right: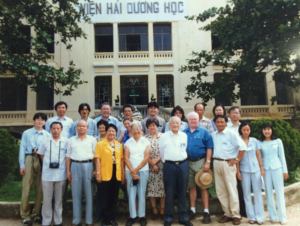 A little about Hai Yen…
Hai Yen works at the Viet Nam Institute of oceanography since 1997. The Institute's library founded in 1922 is a specialist oceanographic library. It is famous for the collection of original historical books on oceanography of the world, published during the 18th and 19th centuries. She benefits from having very friendly colleagues in the library.
Hai Yen graduated from the Pedagogical University, majoring in teaching French in elementary school. She started work in the library as a translator French-Vietnam. In 2001 she received a fellowship from The Danish International Development Agency (DANIDA) for a one month training course for library management training at ICLARM – World Fish Center in Penang, Malaysia. There she met Ms. Kamsiah Mohd Ali – the Information Service Manager of ICLARM, her first teacher for DDC classification, LC classification and thesaurus ASFIS. New opportunities are always presenting themselves in the library world and the teachers of Ocean Teacher/IODE give her the experiences she needs to engage in these activities, especially help with preserving ancient documents, digitising documents, and inspire her to try new endeavors.
Hai Yen happily became a member of PIRG – IAMSLIC at the 40th IAMSLIC Conference in Noumea – New Caledonia. She hopes for an open connection and sharing of information among marine libraries from the Westpac Ocean. Her motto is Working together to make a difference – Working together for a better future.
Talk to Hai Yen in Honolulu about…
When you see  Hai Yen at the conference you can have a chat about traveling, acrylic painting, and swimming.
Hai Yen will be presenting…
Title: Innovations in resources, services and communication face the change in scientific publishing landscape
Abstract: The academic publishing system is the way for communicating and sharing new science and research findings in the science community. New science and innovations – the outputs of research are the results of this system. The landscape of scientific publishing has continually evolved over the past years. Open access and citation databases are set to bring a revolution to science publishing, and science should not be "locked". The rapidly changing landscape of scientific publishing has positive effects on both authors and publishers: higher pressure on scientists to publish, publishers of scientific journals can now use electronic publishing as the main way to present research results, open access in publishing, easy to manage citations (citation databases, reference management tools). However, there are also challenges for low-income countries in the new publishing model. Today peer review panel of international scientific publishers requires use of references in scientific papers found in high-level peer-reviewed citations databases. In the case of low-income countries, local journals are often physically and digitally locked in traditional libraries, and not open access, making it difficult to generate citation databases for articles from local journals; and how to access scientific information all over the world. In this paper, I first refer to share with librarians from other low-countries the case of my Institute and my country in supporting scientists for scientific publishing in the following ways:
–To build the institutional repository(accessing/disseminating information);
–To join the repositories OceanDocs/IOC/IODE/Unesco& Aquatic Commons (The goal is to create the scientific citations for local publications on Google Scholar);
-To utilize capacity development programs for low-incomes contries: Agora – journals (FAO); OpenScienceDirectory – journals (IOC/IODE); Training programme for low-incomes countries (Research4Life, AuthorAid Supporting developing country researchers in publishing their work).
Connect with Hai Yen through…
Facbook: Đặng Hải Yến