Newly qualified information professional Alisa Lazear is our next presenter spotlighted for #IamHawaii Presenter Profile Series. Alisa will present a paper entitled: Undergraduate Material in Aquatic & Marine Science Libraries: Current Practices. We look forward to meeting you Alisa and welcoming you into the fold.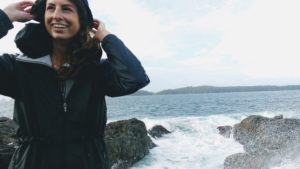 A little about Alisa…
Alisa grew up in Ottawa, Ontario and later moved to western Canada to pursue a library degree and warmer winters. She holds a bachelor's degree in psychology from Carleton University and completed her master's degree in library and information studies from the University of British Columbia this past June. Alisa currently works for the University of Victoria as a Law Library Intern and at Royal Roads University as an on-call Librarian.
After working as a co-op student at the Bamfield Marine Sciences Centre Library last fall, Alisa developed a strong interest in science librarianship and a love of the ocean. This experience led her to pursue a directed studies research project, which she presented at the 2017 Cyamus Regional Group Meeting. Grateful for being a part of the amazing Cyamus group, she looks forward to meeting IAMSLIC members and making others feel just as welcomed. Alisa hopes to continue doing research and contributing to the advancement of librarianship.
Talk to Alisa is Honolulu about…
– Intellectual property
– Open access
– Soup recipes
– Star Trek
– The human psyche
Alisa will be presenting…
Title: Undergraduate Material in Aquatic & Marine Science Libraries: Current Practices
Abstract: The digital age has changed the way we share and store scholarly material. Material created at the undergraduate level is increasingly being deposited in institutional repositories or made accessible online, allowing for this research to be widely available to other scholars. This can create opportunities and challenges for libraries. To better understand the current methods used in aquatic and marine science libraries for the collection, access, and preservation of undergraduate material, a pilot survey was conducted of the Cyamus regional group.
Now, we are interested in gathering a clearer picture by surveying the entire IAMSLIC membership. Aquatic and marine libraries in university and research institutions were the target audience for our survey with the aim of understanding current methods and challenges specific to science libraries.
Examining current process and challenges will offer new perspectives on the issues associated with having undergraduate material online and provide an opportunity to understand our evolving responsibilities as librarians.
This presentation at #IamHawaii will illustrate the results of this study and discuss how changes in access, preservation, and collection have benefited or harmed the scientific community.
Connect with Alisa through…
Twitter Handle: @Alisa_Lazear
LinkedIn: www.linkedin.com/in/alisalazear/