Olivia Diehr is our next presenter on our #IamHawaii Presenter Profile Series. Olivia is presenting a paper at #IamHawaii as well as leading a workshop as a beneficent fairy entitled 'Meeting the Fairy: Think in new ways to create new resources'.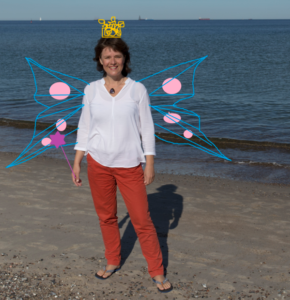 A little bit about Olivia…
Olivia Karin Diehr was born in Rostock (Germany) and is the Head of the library at the Leibniz Institute for Baltic Sea Research since 2008.
Her library started in 1988 in Rostock Public Library. After finishing school, she worked as a library assistant. During this time Olivia learned everything about shelf arrangement, checkouts, returns, and remembers the funny overdue excuses she sometimes heard!
From 1990 to 1994 she studied librarianship at the Leipzig University of Applied Sciences (HTWK), and graduated with a degree in librarianship in 1994. The job opportunities had changed completely after the German reunification. Olivia grabbed the opportunity and started working in academic libraries. From 1996 to 1999 she worked in a Governmental University of Applied Sciences (FHöVPR) in Guestrow, where she led this library for more than a year. From 2000 to August 2008 Olivia served as a librarian at the Greifswald University Library, which is one of Germany's oldest university libraries. At first she was in the acquisition department, and thereafter in the service department for 7 years. She was responsible for the websites of the university library and worked at the information and circulation desk.
Since August 2008 Olivia has held the position of librarian at the Leibniz Institute for Baltic Sea Research in Rostock-Warnemuende. Moreover Olivia finds herself serving marine scientists from all over the world thrilling beyond the regular library services. She keeps her fingers crossed for the various successful off shore sampling campaigns; She also established a library library and last but not least her library tries to provide any required full text articles regardless of the effort. Situated just off the Baltic Sea coast, Olivia's library is certainly one of the most beautiful places to work.
Talk to Olivia in Honolulu about…
Have a chat to her about sharing ideas and inspirations on the future of libraries; traveling, cooking, as well as being outside in nature.
Olivia will be presenting…
Paper title: Testing the waters: Publishing literacy as a new role for marine science librarians?
Abstract: Libraries have a strong service culture. For decades information literacy is well established in our libraries and information centers. The training on skills to search, evaluate and consume information is a substantial part of the libraries' information literacy program. At the same time library services for authors seem to be still in their infancy, at least at specialized libraries beyond universities. There are a lot of varied possibilities to discover. Let us test the waters and explore how librarians may contribute to the publishing process of authors at their institutions. Where are the potential docking points for libraries during the writing and publishing process? Where are exciting opportunities to see? Which limitations have to be considered?
Workshop title: Meeting the fairy: Think in new ways to create new resources
Abstract: Workshop moderation at the 43rd IAMSLIC Annual Conference. This workshop will be slightly different, because it will be led by a beneficent fairy. I will slip into the role of a fairy (fictional), and the main aim is to encourage the participants to think in new ways. Based on several short activities, and with a little help of the fairy, we may re-discover our work-related wishes. The subjects will be created by the attendees themselves during the workshop, all professional themes are welcome. Furthermore this collaboration will be open, every IAMSLIC member will be asked to take part in the way he or she wants to do. I led this workshop at the last EURASLIC Conference in Bremen, Germany in May 2017, and I received very good feedback from the participants.Timeslot: 60 minutes. I hope I will able to bring in a new perspective on what we do to create something totally new and unexpected by moderating this fairy-led workshop at the 43rd IAMSLIC Annual Conference in Honolulu, Hawaii.
Connect with Olivia through…
Leibniz Institute twitter account @Ostseeforschung
Leibniz Institute Facebook page https://de-de.facebook.com/leibnizinstitutfuerostseeforschung