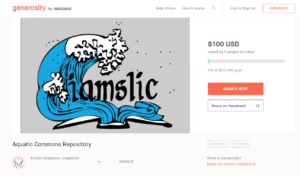 Aloha IAMSLIC friends,
I have started a crowdfunding page on Indigogo's Generosity site to establish a stable source of ongoing support to ensure the future of the Aquatic Commons.
The page is here: https://www.generosity.com/fundraisers/aquatic-commons-repository/
Feel free to post this to your Facebook and Twitter accounts if you feel so led. My ongoing gratitude to IAMSLIC's treasurer (Kristen LaBonte) for taking on one more project. Give if you got! Thanks!
Kristen L. Anderson
[Posted by Stephanie Ronan on behalf of Kristen]