Frequently Asked Questions
Updated 09 September 2009 (new item added on t-shirts)
1) CONFERENCE VENUE
2) RegOnline Preferred Browser/Platform
3) MEALS & FULL CONFERENCE REGISTRATION INFO
4) SEPARATE PURCHASING or CHANGING INFORMATION during REGISTRATION
5) HOTEL INFORMATION
6) TRAVEL INFORMATION
7) EXCURSION INFORMATION
8) BRUGGE INFORMATION
9) CANCELLATION POLICY (Conference)
10) SHUTTLE riders INFO
11) T-shirt designs IAMSLIC/EURASLIC 2009 conference
1) CONFERENCE VENUE: Participants will have the pleasure of attending an impressive conference venue, the Provinciaal Hof, which is located on the famous Markt in Brugge. This building is NOT open to the public and we are extremely fortunate that the Flanders Marine Institute (VLIZ) has sponsored us to be able to use this facility for free. "The east side of the Markt is dominated by the Neo-Gothic Provinciaal Hof (1887-1921), seat of the West-Vlaanderen provincial government. …"
Photo of the Provinciaal Hof (the light center building):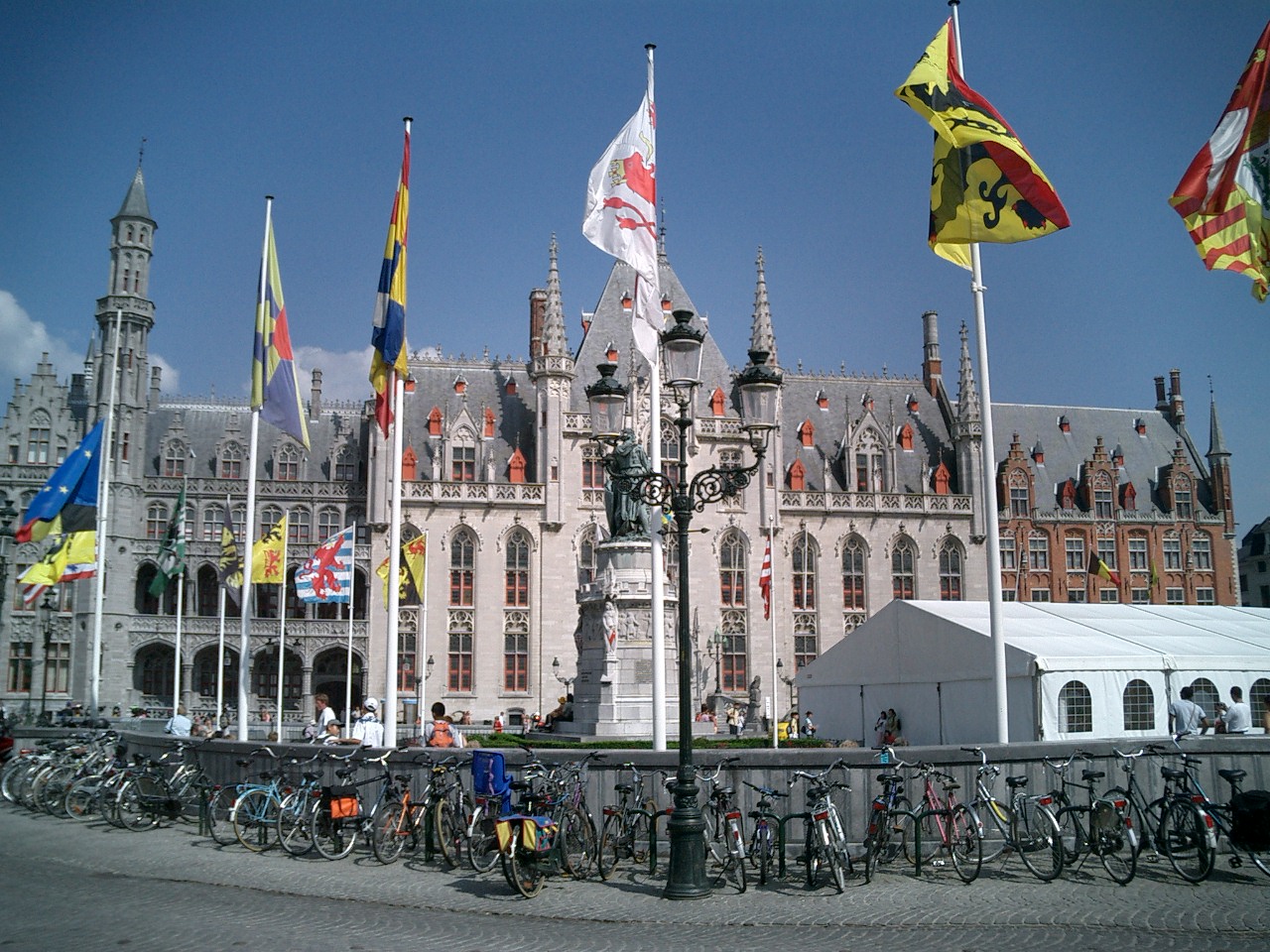 2) RegOnline recommended browser and platform is Internet Explorer
Please note that Macs and Firefox have known glitches.
3) MEALS included: The Full registration fee includes: light appetizers Sunday evening; 4 lunches Monday-Thursday and one dinner Wednesday; and 4 morning breaks Monday-Thursday and 3 afternoon breaks Monday-Wednesday.
FULL CONFERENCE registration also includes: Saturday/Sunday shuttles from Brussels airport to Brugge lodging; Wednesday canal cruise; and one copy of the 2009 proceedings.
4) SEPARATE PURCHASING or CHANGING INFORMATION during REGISTRATION: For those who wish to purchase items separately from the registration process (for example, to use a personal rather than a corporate credit card, or to add a tour or purchase a Tshirt), simply register online for the conference and pay with the appropriate card. Then return to the system and click on the "Already Registered" link to update/change your registration. To register a guest, start a new registration with your email address or your guest's email address. Then select Guest (social events) from the Registration type choices and select the events (Welcome reception, Wednesday dinner, or tours etc.) that you would like to register your guest for. Then pay with a separate personal credit card or check.
5) HOTEL INFORMATION: You are responsible for making your own hotel reservations separately from the conference Registration process. Due to the great popularity of Brugge as a UNESCO World Heritage site, blocks on conference lodging will only be held until July 27th.
Meeting in Brugge will be happy to assist anyone who wishes to book after that time by allowing participants to send their hotel booking form until one day before their arrival. Meeting in Brugge will always try to find similar alternatives for the proposed hotels.
Please NOTE, for the hotels on the booking form, that the credit-card deposit you will be charged will be ONLY for the first night's stay at the lodging you choose! [I have stayed at many places in Europe where they charge you the entire stay up-front when you make your reservation so this is a MUCH better practice.]
Brugge is a walking city so all lodging is within 3-10 minutes walking distance. I visited each lodging in April and the closest locations are Martin's Brugge and the Hotel Koffieboontje which are both about 3 minutes away. The furthest is Golden Tulip De Medici at a little over 10 minutes fast walk..
Please see the "Lodging" information this website
6) TRAVEL INFORMATION: Please see "How to get there" information on this website
SHUTTLE RIDES from Brussels airport: The conference form has a question asking whether you would like a shuttle ride on either Saturday-Sunday 26-27 September. Shuttles will pick up conference attendees at the airport ONLY but directions will be sent to those arriving by train on how to get to the airport, to then catch a conference shuttle going to Brugge.
CAUTION: In my use of trains in Brussels in April to meet with our conference hosts in Brugge, I noted with concern that there is a very high theft rate in the MIDI train station. Please take all precautions when in this busy train station. [Having just had my wallet stolen when on April vacation in Lisbon, I am ultra-cautious about crowded areas]
7) EXCURSION INFORMATION: Our hosts have been most gracious in lining up very exciting tours. Take a historic walk in Brugge before the conference starts or enjoy a carriage ride and boat trip out to Damme on Thursday afternoon after the conference closes. Bicycle-riders will be pleased to see the option for a Thursday afternoon bike ride to Damme. Then two full-day Friday options are available: see the coast of Belgium or tour the Ghent and the Lys region.
Except for the pre-conference walking tour, a minimum of 12 attendees are needed for the excursions to happen.
See the details at the Conference Outings section
8) BRUGGE INFORMATION: Being expert searchers, many of you will probably find lots of information about Brugges and Flanders and Belgium. Keep in mind that our hosts will be adding more information to the "Belgium Attractions" section of the Conference website to help you out in exploring Belgium.
To give you a taste of what is in store for you when you stay in Brugge, here is a paragraph from the visitflanders website link:
"With the city center closed off to cars, all the stunning beauty and culture of this unforgettable city can be easily explored on foot, by boat ride along quiet canals, or by horse-drawn carriage among cobblestone streets. Although Bruges is a small city it will take more than one day to explore all the architectural and artistic treasures, folklore, chocolate shops, lace boutiques, and ambient restaurants on offer."
Check out the online collection of EXTENSIVE visitor guides. Free online but for purchase in paper in Brugge
Top Ten Brugge "classics" http://www.brugge.be/internet/en/toerisme/bezienswaardigheden/10musts.htm
World Heritage listing for the "Historic Center of Brugge"
Stunning Brugge Photos from the World Heritage Collection http://www.ourplaceworldheritage.com/custom.cfm?action=WHsite&whsiteid=996
On the south corner of the Markt is the world-famous Belfry "built in the 13th and 15th century … [and] … widely considered Belgium's finest, with a carillon that has rung every quarter hour for nearly seven and a half centuries." Stair-climbers will have to try the "366 steps [which] takes visitors past the impressive clock mechanism and culminates in a breathtaking panoramic view of the city and surroundings."
Virtual Bruges: 360 degrees Interactive Tour
Choose bottom left selection for nighttime "Market Square" to see virtually where you will be 27 Sept 27 through 1 Oct for the conference.
Weathercam Brugge (view from the South end of the Markt)
BBC weather forecast for Brugge:
9) CANCELLATION POLICY (Conference): If you are unable to attend the conference, you must notify conference planners one week prior to the event (by September 19, 2009) in order to receive a partial refund. Note that there is a $100 non-refundable cancellation processing fee. If you do not notify us prior to September 20, 2009, you will forfeit your entire registration fee.
10) SHUTTLE riders INFO: For those who've completed their registration and responded YES to needing a shuttle ride from the Brussels airport to Brugge on either Saturday or Sunday, 26-27 September: We will be emailing Brussels ARRIVAL shuttle riders requesting their travel info over the next few weeks. The planning committee did not budget for RETURN shuttles as departures after the conference's end will be very scattered. Some people have asked about a RETURN shuttle possibility. We are investigating limited shuttle departures on Thurs-Sunday Oct 1-4 at the traveler's expense and will be contacting everyone with the details and will also notify people about this during the first days of the conference.
11) T-shirt designs IAMSLIC/EURASLIC 2009 conference
Click here to view how the specially designed T-shirts will look like (p.1 = men t-shirts – p.2 = ladies' t-shirts).