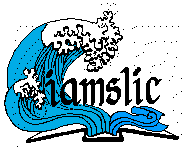 IAMSLIC Distributed Library
Return to Search the Distributed Library | About the Distributed Library | List of Participating Libraries
How to Participate
There are two primary avenues for member libraries to join the group of participating lending libraries in the IAMSLIC Distributed Library.
A. For libraries that have an online catalog that is publicly searchable, they may consider having it added to the list of individual library catalogs. To request that your library's catalog be added, please email the IAMSLIC resource sharing contact.

B. Alternately, libraries are encouraged to add their periodical holdings to the Union List of Marine and Aquatic Serials database at https://www.iamslic.org/unionlist/. They are especially encouraged to add records for unique serials that are not widely available elsewhere. Once a library has been set up as aparticipant, it can add the library's serial holdings to existing records and can enter new serial titles not already in the Union List. Again, please email the resource sharing contact to inquire about participation.
Return to Search the Distributed Library | About the Distributed Library | List of Participating Libraries

©2002- IAMSLIC Last updated: December 28, 2022