The Cyamus regional group encompasses the West Coast of North America and Hawaii; including Alaska, British Columbia, Washington, Oregon, California, Baja California, and Hawaii. Members represent academic, governmental and private institutions concerned with the marine and aquatic environments.
Annual Meetings
Annual meetings are held in the spring, giving members the opportunity to visit relevant libraries and as a forum to exchange ideas between the annual IAMSLIC conferences. Past meeting notes and annual reports to IAMSLIC are available in the archive.
The 2014 Annual Meeting is scheduled for March 19-22, with hosting duties shared by the UC Davis Bodega Marine Laboratory in Bodega Bay and the California Academy of Sciences in San Francisco. Visit the wiki for more information as we plan!
The 2013 Annual Meeting was held March 18-20 at the USC Wrigley Marine Science Center on Santa Catalina Island, California.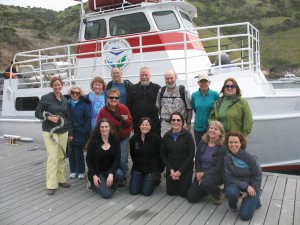 (not in photo – Beth Rogers, Bill Crampon)
Other Activities
Many Cyamus libraries contribute to the Union List of Marine and Aquatic Serials which includes library holdings of selected participating libraries.
Cyamus has funded a number of digitization projects by its members. Digitized material is submitted to the IAMSLIC repository, Aquatic Commons.
We welcome all interested members and non-members to join us. For more information about Cyamus activities contact:
Becky Morin, Cyamus Regional Representative
California Academy of Sciences
55 Music Concourse Dr.
San Francisco, CA 94118
(415) 379-5495Voice
rmorin@calacademy.org



Jeanine Scaramozzino is Cyamus Secretary and Molly Engelbrecht is Treasurer.
---
Visit the IAMSLIC Web Site for more information.